Ready for breakfast?
At C-Hotels Zeegalm, you can enjoy a delicious breakfast in the mornings. You will find an extensive selection of breakfast specialities such as various types of bread, "coffee" cakes, cut meats, cheeses, breakfast cereals, savoury and sweet spreads, bacon and eggs, fresh fruit and, naturally, great coffee or tea how you like it. And, last but not least, satisfying fruit juices!

Daily from 8:00 until 11:00
Breakfast is optional, please make a reservation in advance


Kids (0-3 years): free
Kids (4-12 years): €12.50
Adults: €17.50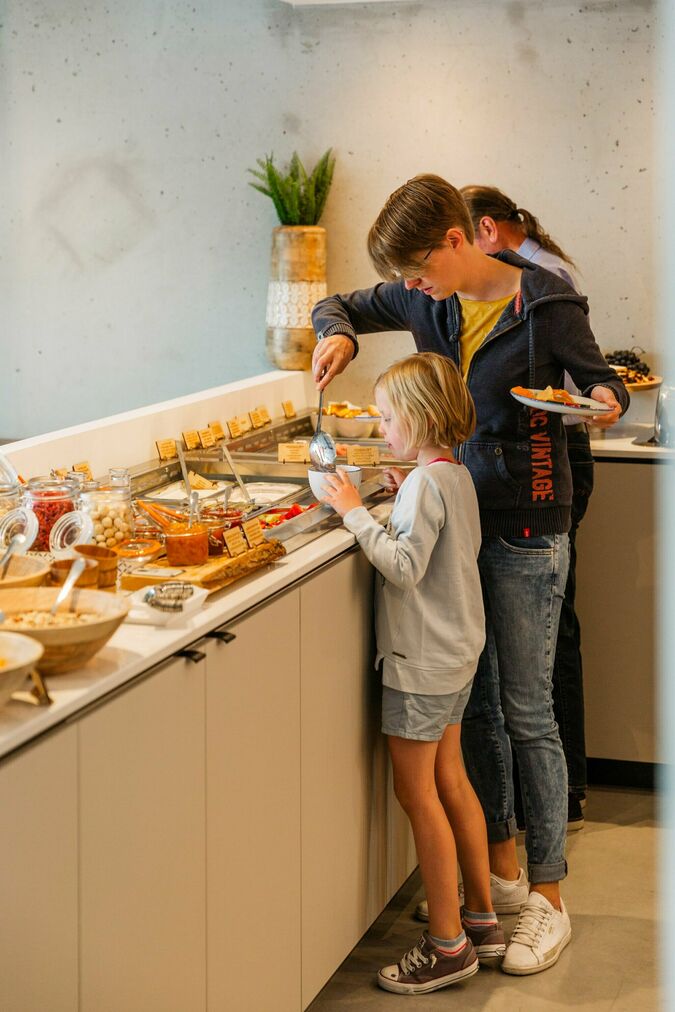 Sandwich service
Would you prefer to have breakfast in your own studio? No problem! Use the bread service to order "coffee" cakes or artisanal bread every day to pick up. You can find the forms for this at reception.

Please order before 5 p.m. on the previous day.

Do you wish to spend
the night in Zeegalm?
You will be staying in the green dunes of Middelkerke close to the beach and centre. Discover an innumerable number of activities, the unique surroundings and the beautiful natural environment.
At what times is breakfast served?
The breakfast buffet is served from 08:00 to 11:00.
Is breakfast included in the room rate?
At Andromeda breakfast is included in the room price.

At Burlington, Excelsior, Helios ,Continental and Zeegalm breakfast is not included in the room price. You can optionally book this.
What is served at the breakfast buffet?
There is a wide range of different types of bread, coffee cakes, pancakes, cold cuts, cheeses, yoghurts, fresh fruit, cornflakes, granola, hot sausages, eggs, different fresh fruit juices,...

If you prefer vegetarian food, you will find a wide range such as fresh fruit, cheese, eggs, wholemeal bread, all kinds of yoghurt, a wide range of cereals, crackers, superfoods and raw vegetables. Vegans too can start their day with fresh fruit, raw vegetables and a strong cup of coffee or tea.

During the breakfast buffet, gluten-free bread and an assortment of gluten-free crackers are always available. Lactose-free products, such as soya milk, are always available at the buffet.
Can I order bread and pastries?
Every day you can order pastries, pistolets and bread for pick-up the next day. Your order is delivered to us daily by the local bakery.
Can I book a breakfast even if I am not a hotel guest?
If you are not a guest at the hotel, you can reserve breakfast at the hotel. And this according to availability.
The cost of breakfast depends on the hotel where you wish to have breakfast.
We ask you to book at least a few days in advance, by phone or by e-mail.
Which hotels have a restaurant?
We do not have a restaurant in our hotels, only a breakfast buffet.

C-Hotels Andromeda has a cosy C-Bar with sea view where a drink and tapas board can be ordered. No full meals are served in the bar. The C-Bar is open to everyone, including non-hotel guests.
A bar is available at C-Hotels Burlington, C-Hotels Helios, C-Hotels Continental, C-Hotels Excelsior and C-Hotels Zeegalm.